Written by Anne Stefanyk and Allison Manley
Reading Time: 4 minutes
In today's fundraising landscape, your organization's website is more important than ever in the donor journey.
Why? It's simple—research shows a 10.4% year-over-year increase in online giving. As your online fundraising hub, your website is a critical tool for engaging and retaining donors in the digital realm. 
To ensure your website is poised to capture this valuable giving stream, it must be optimized to facilitate the donor journey. Kanopi defines the donor journey as the path your donors follow to decide if and how they want to support your nonprofit. That means your site must facilitate every step donors take, from when they first become aware of your cause to when they make that crucial decision to give. 
Designing your website to streamline the donor journey takes careful planning and research. Kickstart the process with these four steps: 
Audit your website.

Design the donor journey based on user personas. 

Focus on the user experience.

Adopt a continuous improvement approach. 
When your website content resonates with donors and speaks to their personal motivations, you'll have a much greater chance of earning their support and maintaining it for the long term. 
1. Audit your website strategy.
The first step to optimizing the digital donor journey is to review the current state of your website to understand what's working and what needs improvement. A thorough website audit can give you a starting point for making effective adjustments. 
Recruit multiple staff members to conduct an audit, noting technical issues, instances of poor user experience, and other imperfections. Here are a few examples of issues you might run into throughout the audit: 
Your post-donation

donor appreciation

message page is glitching. 

Your website doesn't have a user-friendly site search option.

Your donation page has a high bounce rate. 

Your website design or branding looks outdated or inconsistent. 

Your social media engagement isn't translating into more online donations. 
Some of these issues, such as outdated branding, can be fixed with a few tweaks to your website design strategy and digital style guide. Others, such as donation page conversion problems, will require more digging to get to the root of the matter. That's where audience research and donor personas come into play. 
2. Design the donor journey based on user personas.
A user persona is a profile that represents a specific audience group and includes information about their demographics, motivations, and interests. Crafting donor personas allows you to learn more about your supporters, their preferred communication channels, and their giving motivations. This ultimately helps you design your website in a way that appeals to each group. 
No matter what kind of nonprofit you are, your donors probably aren't identical. People are drawn to donate to your cause for a number of reasons. Your donor pool might include: 
Peer-to-peer fundraisers

who participate in your campaigns and contribute donations themselves as well. 

Volunteers

who support your cause through donations of time and money. 

Community members

who've been impacted by your mission or helped by your organization. 

Social media followers

who came across a post from your organization on their feeds and were inspired to donate. 

Former donors

who want to start contributing again.

Corporate partners

who want to support your cause while boosting their reputations as charitably-minded organizations. 

Family members or friends of your current supporters

who were inspired to give after seeing a social media post from or speaking with their loved ones about your mission. 
Develop personas that apply to your organization's unique donor base. Use your constituent relationship management system (CRM) to identify and create segments for each donor type. 
Then, design user journeys based on what you learn about each donor persona. Use call-to-action buttons and links to encourage visitors to take a desired action. 
For example, take a look at Feeding America's "Take Action" page. They offer many opportunities to website visitors based on their interests. Visitors can choose to become monthly donors, sign up to volunteer, send a thank-you note to food bank staff or volunteers, start a fundraiser or food drive, or participate in the conversation on social media: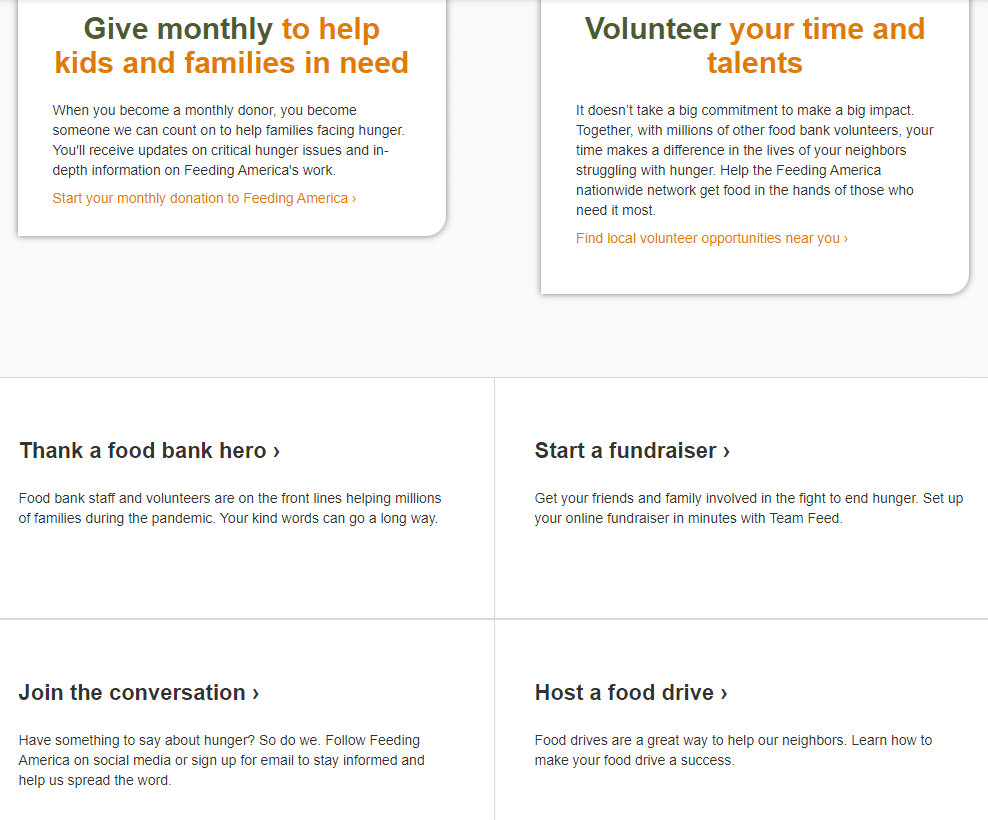 These links offer visitors from each segment easy, immediate ways to get more involved in Feeding America's mission and show their support in a way that appeals most to them. Use your donor personas to create user pathways on your website, providing a more streamlined visitor experience. 
3. Focus on your donor's user experience.
Your work isn't finished once you've created user pathways. Optimizing the donor journey requires enhancing every element of the user experience (UX). 
The user experience is the way your visitors interact with your website, encompassing every action they take, from clicking around your online calendar to contributing a digital donation. 
A negative user experience can leave visitors feeling frustrated or unfulfilled. Needless to say, that doesn't make for a great start to the donor relationship. 
Create a positive user experience (and first impression for new supporters) by incorporating UX best practices. Getting Attention's nonprofit website UX guide recommends ensuring that your website is: 
Mobile responsive:

Your site should automatically adjust to fit smaller screens, as a large portion of your donors will be connecting with you via mobile device. 

Accessible:

Follow accessibility guidelines to ensure your site is usable for all audience members. This includes providing descriptive alternative text for images, captions for videos, sufficient color contrast, and other accessibility recommendations. 

Easily navigable:

Keep your navigation menu clean and simple, with just a few menu items that speak to users' interests and facilitate their information-gathering process. 

Fast:

Your website shouldn't take more than a couple of seconds to load. Otherwise, you risk losing visitors at a rapid pace. Minify your code, optimize and compress visual elements as needed, and leverage browser caching to improve load speeds.
All of these elements should apply not only to your website as a whole, but also to your online donation form. When your form is accessible, streamlined, and mobile-friendly, you ensure that you can keep donors engaged up until they actually submit their contributions. 
4. Adopt a continuous improvement approach. 
After you've implemented a few initial adjustments, be sure to regularly assess your website analytics to determine the effectiveness of each change. This allows you to make data-driven decisions that further optimize your website through audience feedback. 
Use A/B testing to assess different elements of your website. This process involves creating two different versions of a web page, such as your online donation form, and determining which is more effective for engaging visitors. For instance, you might change the image used on your donation page to a group photo rather than an individual one, or offer slightly different suggested giving amounts to see if more donors will take advantage of these options. 
Make sure you only change one page element per test so you can pinpoint the specific modifications that have an impact. 
This continuous improvement approach provides a solid foundation for your nonprofit's digital transformation and your ongoing attempts to connect with donors more deeply online. 
If you feel like you need more guidance throughout any step of this process, reach out to a digital design agency. These firms can help you fully develop your donor personas, user journeys, and user experience and set your website up for long-term audience growth. 
Finally, remember that the donor journey isn't set in stone. These four steps will provide you with a repeatable process you can use each time you want to update your website. Adjust your user pathways as your audience grows and changes or innovative digital techniques emerge.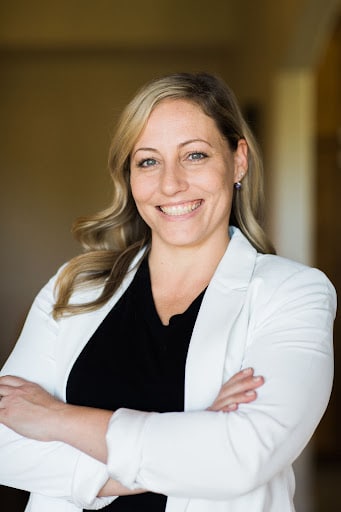 Author: Anne Stefanyk
As Founder and CEO of Kanopi Studios, Anne helps create clarity around project needs, and turns client conversations into actionable outcomes. She enjoys helping clients identify their problems, and then empowering the Kanopi team to execute great solutions.
Anne fell into the Drupal community in 2007 and admired both the community's people and the constant quest for knowledge. After holding Director-level positions at large Drupal agencies, she decided she was ready to open Kanopi Studios in 2013.
Anne is an advocate for open source and co-organizes the Bay Area Drupal Camp. When she's not contributing to the community or running her thoughtful web agency, she enjoys yoga, meditation, treehouses, dharma, cycling, paddle boarding, kayaking, and hanging with her nephew.
Connect with Anne on Twitter, Drupal, or LinkedIn
Author: Allison Manley
Allison is a recovering (and award-winning) designer who applies her creative and organizational skills to marketing strategy for Kanopi. Her diverse, multi-disciplinary background — which in addition to design includes glassblowing, publishing, podcasting, and figure skating — contributes to strong relationships to which she offers a broad perspective.
Her job is to tell the story of Kanopi by sharing information, writing, working with staff and partners, and keeping the brand cohesive across all channels. And since she maintains this site and wrote this, she can say she considers it a privilege to be able to work every day with fun, smart people who make her job easier; her colleagues keep clients so happy with solid work and processes that the clients, in turn, are obliging in helping Allison with case studies and positive feedback.
When not keeping the Kanopi brand on point, Allison is working on double jumps on an ice rink, chasing small children, or organizing something somewhere.