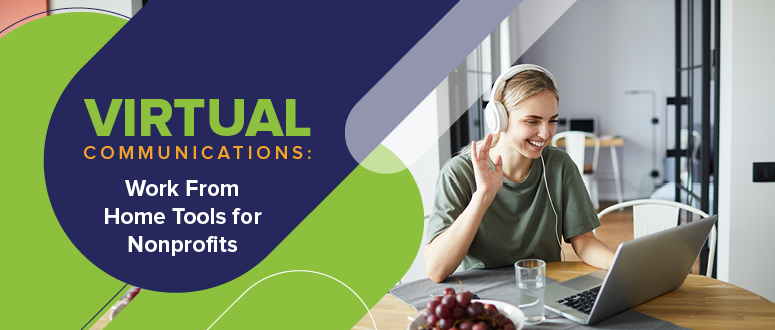 Nonprofit organizations have felt the immense impact of the pandemic on almost every facet of how their charity operates. While each unique organization has been impacted differently, none can say that they're operating the same way they were pre-COVID.
One of the universally felt impacts of the pandemic is the change in the way we communicate with one another. Due to the increase in social distancing and the requirement for many to work remotely, we've leveraged technology more than ever before to stay connected.
Specifically for nonprofits, organizations have had to find new ways to virtually communicate with other team members as well as supporters. 
This connectivity is necessary for soliciting donations, building relationships, enabling professional development opportunities, completing tasks at the organization, retaining staff, and so much more. That's why we've created this guide. It walks through the different styles of virtual communication both internally and externally from the organization. 
Let's start with virtual internal communication strategies and then move on to external for the second half of the article. 
Internal Communication Strategies
Internal communication strategies describe how nonprofits communicate between teammates in order to complete necessary tasks within the organization itself. 
For example, a major gifts officer might assign the task of calling major prospects to another fundraiser on the team. In order to get that message across in this new socially distant world, the major gifts officer can no longer just run into the office of the other fundraiser. They may need to leverage their email, the CRM, or a phone call to make the message known. 
To make sure internal communication is as effective as possible while working from home, nonprofits should be sure to encourage open communication, prioritize tasks appropriately, and create frequent check-in opportunities. 
Encourage Open Communication
The last thing you need is for your staff members to feel like they're being kept in the dark about the various activities of the organization. With so much happening externally, your staff will want to know how your nonprofit is handling the different challenges brought about this year and how you plan to make the most of the future. 
Encouraging open communication between your staff members and the leadership at your organization will help everyone fully understand the state of the organization and work together to decide next steps for the future. 
Be sure to set up convenient communication platforms that your staff members can use to keep in touch with leadership and one another. For instance, you might decide to: 
Ask everyone to download the fundraising app used by the organization.

This ensures everyone has access to invaluable fundraising information so that your staff members can keep track of the organization's goals, task notifications, and more. 

Set up video conferencing software.

While you

can

communicate via phone call, video conferences offer insight into the nonverbal communication that we all use in conversation. Encourage everyone to conduct meetings on these platforms so that no communication is lost. 

Encourage everyone to take a course in communication.

Some of the

most impactful nonprofit courses

feature information about communicating between staff members. By encouraging everyone to take these types of courses, you can foster an environment of learning while improving the openness of communication at your nonprofit.

Encourage fundraising education

. With trade shows and other opportunities for in-person learning are harder to access (for good reason) there are ample opportunities for distance learning, such as through webinars and certificate programs like

The Fundraising Standard

. When you invest in your people, it pays dividends for the organization!
These options are not mutually exclusive. By incorporating more than one of these strategies, you can encourage an environment of open and two-way communication both working from home and when you get back to the office. 
Prioritize Tasks Appropriately
Another element in communication that might be lost in the shift to working from home is the prioritization of tasks that must be accomplished by various members of the team. While one member might believe one project is most important, another might prioritize a different one. 
For example, consider Bob and Larry, two staff members at a nonprofit that supports research in the field of a rare disability. Bob is a fundraiser and is anxious for the year-end giving campaign. He wants to make sure the fundraising letters are ready to go and the virtual event prepared a month in advance. Meanwhile, Larry is another fundraiser who is more concerned about the ongoing capital campaign that is designed to purchase much needed equipment for the research. 
The two men work together fairly well in the office, but are frustrated while working from home because their attention is on two different things. Maybe Bob wants Larry's feedback on the theme of the year-end giving virtual event, while Larry wants Bob to make calls to major supporters to be on track to shift from the quiet phase of the capital campaign to the public phase. 
Situations like these can create tension in the workplace between the two staff members. An easy way to solve this issue is to have leadership assign each worker clear tasks that need to be accomplished and provide deadlines for them so that prioritization is clear. 
We recommend using the tasks feature in your nonprofit CRM so that everyone knows exactly what they're supposed to do, when, and the level of the task's importance. Bloomerang's CRM guide explains how donor databases can store information about your supporters for better communication with them, however, it's important to recognize that a well-designed solution will also help you communicate and prioritize within the organization itself. 
Create Frequent Check-In Opportunities
In both for-profits and nonprofits alike, managers and executives often find that they have less visibility into what the rest of the team is accomplishing on a daily basis. To combat this, build opportunities into the schedule so that team members can ask questions about the various organizational projects and their own work assignments. 
For example, you might set up a daily call between executives and direct reports so that they can ask any relevant questions that might occur during an at-home workday. Or, you may incorporate a messaging platform in your work from home toolkit so that staff members can quickly send a message when a problem or question arises. 
If you're looking for ways to proactively gain visibility into what others are accomplishing, you might ask them to: 
Share their daily priority each day. 

Ask them to track their time for various assignments. 

Schedule weekly meetings for projects where individuals can discuss what they've accomplished during the week for the project and determine next steps. 
As you create opportunities to check in on various projects and staff members, be sure not to cross the line into micromanagement. Staff members should still feel trusted as they complete their work. Be sure to explain to them that your reasoning for this exercise is to only provide a helping hand when it's necessary.
External Communication Strategies
Your external communication strategy guides how your nonprofit communicates with supporters and should be designed to build relationships and garner support throughout the engagement. 
It's vital to continue building these relationships even during challenging times while everyone works from the comfort of their homes. This will help foster your fundraising and engagement efforts both now and into the future.
In order to continue building these relationships with external communication strategies, we recommend that you diversify your communication platforms, increase the frequency of your communication, and create virtual "get-togethers" for supporters to attend. 
Diversify Communication Platforms
Different supporters prefer different methods of communication from your organization. The average email open rate for nonprofits is around 26% (much higher than the average open rate for all emails, which rests at around 6%). 
While most nonprofits lean heavily on their email platform for remote communication, they're still missing a pretty immense gap. With a 26% average open rate, you're still left with around 74% of readers who don't see your message! However, this rate of non-readers will decrease if you add more platforms into your communication strategy. 
We recommend adding in these other additional platforms that you can use to communicate with your supporters: 
Social media

Phone calls

Live streaming

Direct mail
Let's take Sally for example. Sally is a supporter of your organization, and she receives around 50 emails a day from various sources. When your organization sends your invitation to the year-end giving virtual event, she simply doesn't see it hidden among her other emails, even though she'd really like to attend. However, when she comes across the message on social media, she immediately jumps on board and clicks through to the event registration page. 
When you diversify platforms, you increase the chance that supporters like Sally will see the message and want to get involved in the various opportunities you offer. 
Increase Frequency of Communication
In the midst of today's societal challenges, you don't only want to increase the platforms on which you communicate with your supporters, but also the frequency with which you communicate with them. 
Remember how we said that your staff members will want to know the status of your organization and how you're reacting to the current pandemic? Well, your supporters feel the same way! They want to know what's going on and how you're faring with the troubles of the year. 
Increasing your communication with supporters not only informs them about how you're faring, but also provides more opportunity for them to support your organization. 
When you increase the communication with your supporters, be sure to: 
Explain what's going on at the organization.

Don't fall into the temptation of sugarcoating the truth or directly lying to your supporters. If you're struggling financially, then tell them about it.

Data from Bloomerang

showed that addressing "the elephant in the room" was more effective than ignoring it when it came to crisis appeals. Let supporters know how these troubling times have affected your mission, then tell them how they can help!

Ask for donations.

Many organizations have struggled asking for donations because they assume their donors are negatively impacted by the economic downturn. However, the only way to guarantee supporters won't give to your organization is to not ask them. Be sure to use the best practices found in

email donation request guides like Qgiv's

so that you know you're maximizing your use of technology for these solicitations. 

Tell supporters the type of impact they can have.

Make sure to tell your supporters

how they will change the world

by contributing to your organization. Be specific! Clearly explain how donating $50 will buy 10 kids new backpacks or how a donation of $100 will purchase textbooks for an entire class. 
While you shouldn't hesitate to ask for donations, you should also be sure not to ask for donations too often. You don't want them to think you only want their money! To diversify communications, ask them how they're doing, ask them to take surveys about their interactions with your organization, and tell them about ways to get involved without spending their hard-earned cash. 
Create Virtual "Get-Togethers" for Supporters
While working from home and social distancing is a challenge, during this day and age it's not the end of the world! We have so much technology available to us that we can move many of our in-person interactions to the virtual sphere. 
When you're considering hosting virtual "get-togethers" for your supporters, you should first think about the benefits that you receive from in-person events. Some of the benefits you might list include: 
Increased donations from supporters

Strong relationships with major prospects

A sense of community among your supporters

Higher engagement among attendees
After you have these benefits in mind, consider how you'll get the same benefits from virtual interactions. With the above benefits in mind:
Raise more donations.

To raise donations virtually, you'll need access to a well-designed donation page or text-to-give tools that supporters can use to give. 

Develop strong relationships with major prospects.

Consider offering "VIP access" to various aspects of the event, such as VIP breakout groups for conversations. Or, allow for one-on-one chats and discussions so that your major gift officer can talk privately to these individuals. 

Create a sense of community among supporters.

Offer opportunities for your supporters to interact with one another, such as through live polls or forum discussion boards. 

Cultivate higher engagement.

Offer lots of ways for supporters to get involved and engaged with you during the virtual event. Nothing is more boring than slide after slide in a lecture-style environment. But interactive elements, breaks, and a set schedule will keep people engaged for the long-haul at virtual events. 
You may decide to host virtual events as fundraising opportunities or as stewardship opportunities. This guide provides examples of virtual events that can be configured for either option. Some of the top examples include: an online gala, virtual cooking night, nonprofit training, online gaming tournament, and virtual happy hours. 
When you host events completely online, you don't have to worry about social distancing because everyone can "get together" from the comfort of their homes. 
While social distancing does present many challenges, one of the greatest is communication. However, when you have some tools and best practices in mind, you can make the most of the situation. Plus, by fleshing out your virtual communications strategy now, you'll be better set up for the future as they become more and more common in our daily lives. 
Author: Jay Love
Co-Founder and current Chief Relationship Officer at Bloomerang
He has served this sector for 33 years and is considered the most well-known senior statesman whose advice is sought constantly.
Prior to Bloomerang, he was the CEO and Co-Founder of eTapestry for 11 years, which at the time was the leading SaaS technology company serving the charity sector. Jay and his team grew the company to more than 10,000 nonprofit clients, charting a decade of record growth.
He is a graduate of Butler University with a B.S. in Business Administration. Over the years, he has given more than 2,500 speeches around the world for the charity sector and is often the voice of new technology for fundraisers.