As the nonprofit sector embraces the advancements of the digital age, it's essential for nonprofit professionals and their organizations to stay ahead of the curve. One groundbreaking technology that has immense potential for changing nonprofit grant writing is Artificial Intelligence (AI).  
Artificial Intelligence is not just a buzzword—it's a game-changer for nonprofit professionals and their organizations. By harnessing the power of AI, you can streamline your grant-seeking efforts, prevent burnout, secure vital funding, and advance your missions like never before. Get ready for the Nonprofit Leadership Alliance's free webinar, "Unlocking Opportunities: Artificial Intelligence in Grant-Seeking and Beyond" which will transform the way you approach grant writing!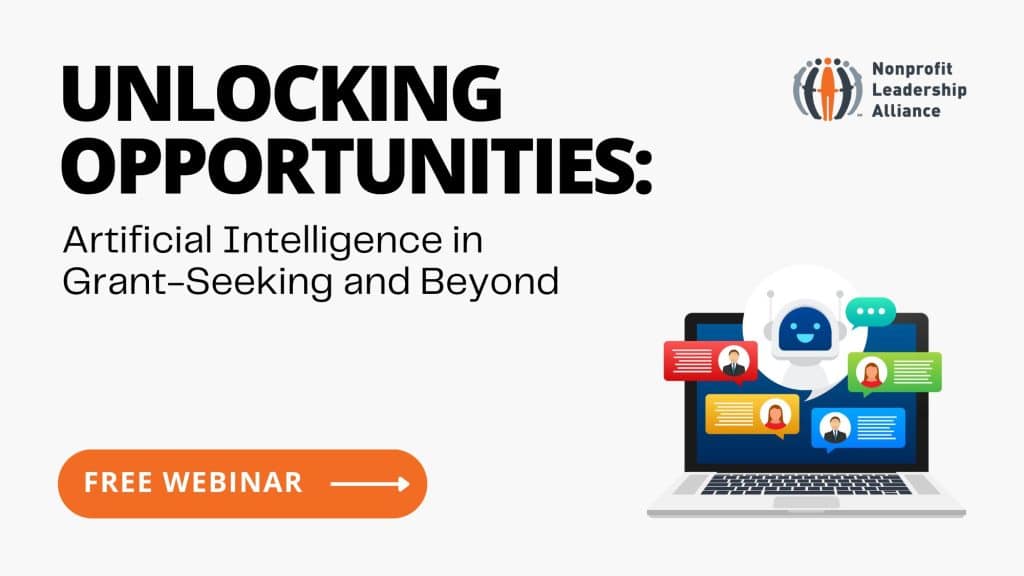 Understanding the Power of Artificial Intelligence (AI):
In the world of grant writing, time is of the essence. That's where AI-powered tools come into play, taking the process to a whole new level of speed, intelligence, and collaboration. With AI, nonprofits can streamline their grant-seeking efforts, efficiently navigate complex applications, and increase their chances of success.  
Leveraging AI to Prevent Burnout and Advance Missions:
Nonprofit professionals often face overwhelming workloads, leading to burnout and hindered productivity. AI technology is here to be your reliable ally, lightening the load and enabling you to focus on what truly matters – your core missions. Imagine automating time-consuming tasks like prospect research, document organization, and performance analytics. By embracing AI, you can reclaim precious time and resources, channeling them toward your programming and making a more significant impact. Let AI help you prevent burnout and propel your missions forward! 
Embracing Change: AI as an Integral Part of the Future
The creation of AI has marked a significant shift in how nonprofits approach grant writing and organizational operations. It's crucial for nonprofit professionals to acknowledge this change and embrace AI as an integral part of their toolkit. Ignoring the potential of AI would mean missing out on opportunities to optimize processes, gain a competitive edge, and amplify your impact. It's time to unlock the potential of AI and reshape the future of grant writing! 
The nonprofit sector is at a pivotal moment, and AI technology holds the key to unlocking a world of opportunities. Join us on June 28th for our free webinar, "Unlocking Opportunities: Artificial Intelligence in Grant-Seeking and Beyond." Get ready to engage in an insightful discussion and be part of a lively Q&A session. Our special guest, Philip Deng, cofounder and CEO of Grantable, a leading grant writing software company, will be sharing valuable insights. Don't miss out on this transformative experience!