Are you interested in an international development career? This article is your guide! Whether you are a seasoned professional or a college student just starting out, here are some key strategies and trends to be aware of. In a recent webinar hosted by the Nonprofit Leadership Alliance, Brian Backe and Andrew Herman, professionals in international development, shared their advice.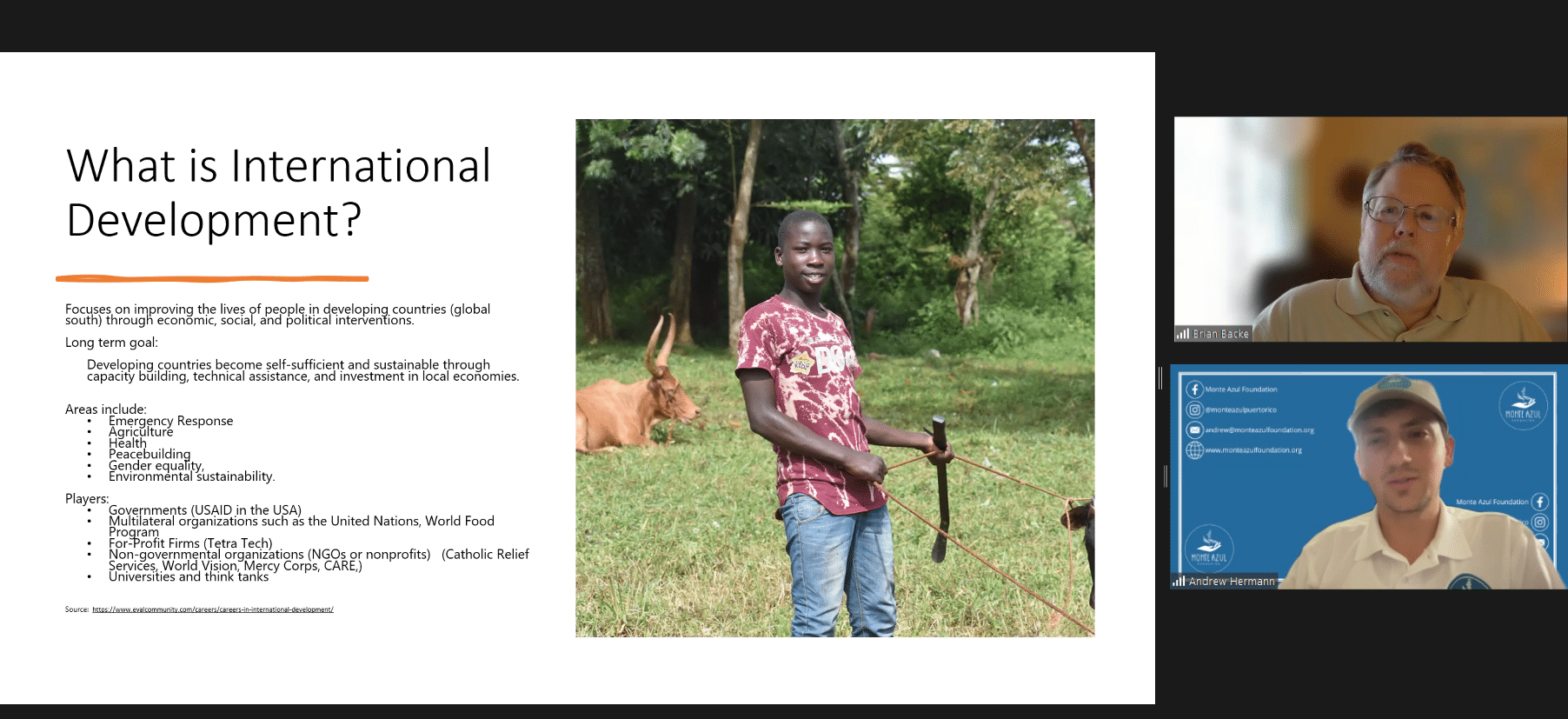 Understanding an International Development Career
Many of you reading might already have an understanding of international development, but for those of you that do not, international development can be seen as an overarching theme for working toward eliminating poverty and injustice worldwide.  
The most common framework for understanding international development is the United Nations Sustainable Development Goals (UN SDGs). The UN SDGs cover 17 different dimensions and were adopted in 2015 as part of The 2030 Agenda for Sustainable Development.  As the presenters noted, opportunities in international development work are very broad and often match the skill sets needed for a traditional nonprofit career. From program management, to human resources, to fundraising and grant writing, to IT and other administrative functions, there are many kinds of international development careers both in home offices in the United States and country offices around the world.   
The Importance of Networking
As with many nonprofit jobs, building your network and having a broad skill set can be your keys to success. However, in an international development career these tools are especially critical as the goal of your projects is often to work yourself out of a job.  
At first read, that might not make sense, but most international development work is focused on local capacity building efforts. When successful, local organizations are able to provide the services necessary without relying on foreign organizations' assistance. As a result, if you are successful, you will need to find a new job at the end of the project, thus, having a strong network and a broad skill set are vital to professional success and growth.  
How to get started
As a college student or nonprofit professional interested in an international development career, how do you move forward?  
Cross Cultural Communication
According to the presenters, no matter what role you have or where you are located, one of the most important skills is cross-cultural communication. This can be learned through formal training and can also be expanded through travel, learning another language, or interacting with people with different backgrounds from you.  
Additionally, they note that building relationships with local organizations, funding agencies, and other technical partners will help ensure project success. This can provide you opportunities to move from one project to another.  
Lastly, they advise those interested in international development to make sure that the organization's values align with what you are looking for in a career. Most of the time, it is better to determine the organization you want to work for rather than the specific role since roles can change frequently depending on the types of projects the organization manages.  
Getting the Job
In order to familiarize yourself with the international development sector, subscribing to newsletters from organizations like SID-US and Devex will keep you informed, see available jobs, and understand the relationships between funding agencies, such as USAID, and the technical implementing organizations such as IREX, TetraTech, World Learning, and more.  
By understanding the landscape, you can see which technical implementing organizations work on projects that are in line with your interests. Then you can begin applying to available roles within those projects! When applying, it is important to customize your applications, be open to different opportunities, build your skills, stay informed, and be patient.  
A career in international development has many advantages including meaningful work, career diversity, flexibility, skills development, and global exposure. An International development career can be both difficult and rewarding, but if you are looking for a nonprofit career path with a global impact, it might be the path for you.  
About the Author:
Jeanette Gass, CAP, ACNP, DES is Senior Program Manager, Global Engagement at ICMA where she manages relationships with partner organizations worldwide and works to implement ICMA's global strategy. She is Vice President of the Association of CNPs and volunteers with ASAE and Phi Sigma Pi National Honor Fraternity.   
---
Did you enjoy this article?
Get nonprofit tips and tools delivered right to your inbox by joining The Nonprofit Leadership Alliance Newsletter. Our bimonthly newsletter will make sure you know what's happening with our network of social sector leaders.
milesnla
Are you interested in an international development career? This article is your guide! Whether you are a seasoned professional or a college student just starting out, here are some key strategies and trends to be
milesnla
As a nonprofit leader, you know first-hand the value of your work and how necessary it is to help your beneficiaries. You work hard to fulfill your organization's mission. However, the harder you work, the
milesnla
When did you last see a pilot?  Except maybe a "thanks for flying with us" as you deplane, they are behind a locked door separate from the crew and passengers. It's the crew that knows