In the constantly evolving social sector, leadership is key to making a meaningful impact. The Certified Nonprofit Professional (CNP) program, offered by the Nonprofit Leadership Alliance, recognizes this need and is pleased to announce the 55 outstanding individuals joining its prestigious CNP September Cohort. This nationally recognized program, which offers only four cohorts each year, is a pivotal step for leaders working in the nonprofit sector. 
55 Social Sector Visionaries
These 55 individuals are more than just participants; they are visionaries, driven by the desire to transform the world, for the better. In a sector that demands flexibility, innovation, and a profound understanding of the unique challenges it faces, these leaders are well-prepared to rise to the occasion. 
Each member of the CNP September Cohort has demonstrated a deep commitment to the principles of nonprofit leadership. They have already begun their journey to shape a brighter future for nonprofits, using the knowledge and skills they will gain from this six-month program.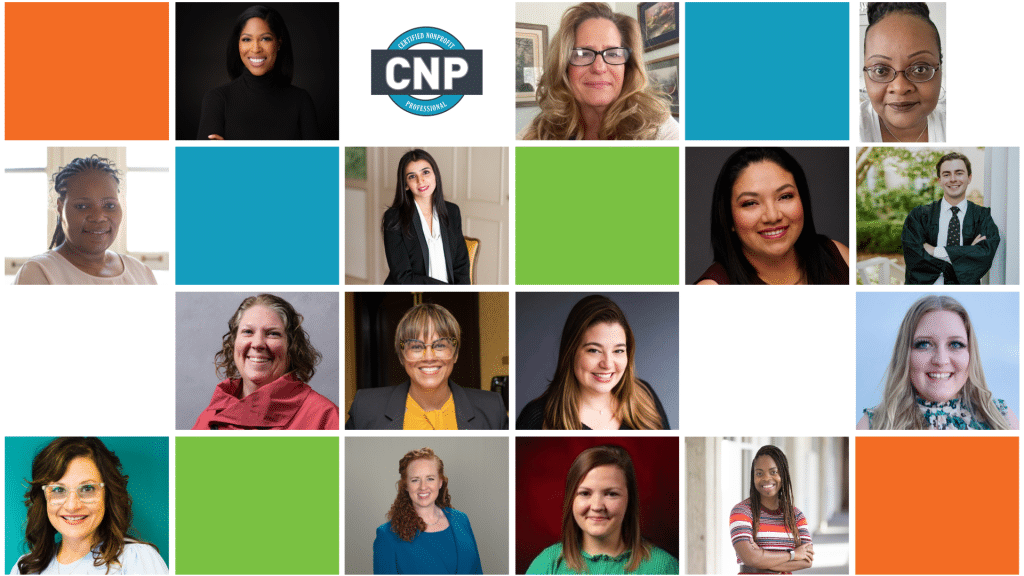 To name a few:
Aimee Arent

, Friends of Ottawa National Wildlife Refuge

 

Aiza Ashraf

, Director of Equity & Community Impact, United Way of Lancaster County

 

Lorrena Black

, VP Leadership Development, Inforum

 

Skylar Champalath

, Development & Communications Manager, Waterloo Schools Foundation

 

Valerie C. Delgado

, JCFRC Operations Manager & SAGE Care Program Manager

 

Stacia Novella Frederick

, Author, Entrepreneur, Program Manager

 

Connor Giresi

, Account Executive, Double the Donation

 

RoseMary Klie

, Senior Director of Operations, Diabetes Foundation

 

Tracy McKenna,

Executive Director, The Ascent Scholarship

 

Jennifer M Moore

, CEO/Program Director, Y.O.U.T.H. Inc.

 

Maricela Morado

, President & CEO, Area Agency on Aging for Southwest Florida

 

Alaine Nix

, Director of Advocacy, CASA of Galveston County

 

Amy C. Powell

, Executive Director, Art Reach of Mid Michigan

 

Shenique Rasheed

, Education Coordinator, KERA

 

Jamillah Renard

, Project Advisor, Movement Strategy Center

 

Liz Smith

, Individual Giving Coordinator, Fund for Global Human Rights

 
The Importance of Nonprofit Leadership
Nonprofit organizations play an essential role in addressing critical social issues. Effective leadership is crucial for these organizations to thrive and continue to serve their communities. The CNP program's curriculum ensures that these leaders are well-versed in nonprofit management, leadership, financial stewardship, marketing, fundraising, and the latest trends shaping the sector. 
About the Program
The CNP Professional Track is a six-month cohort designed to move social sector leaders to their next level of leadership. You have an expert facilitator leading you through six courses of content and providing feedback on your applied projects. These assignments take what you learn in the program and apply it to a real-world organization.  
Sample Program Outline:
Management & Leadership in the Nonprofit Sector: 
Introduction to the Nonprofit Sector

 

The Nonprofit Organization Context

 

Nonprofit Human Resources

 

Ethics & Values in the Nonprofit Sector

 
Designing Programs for Long-Term Sustainability: 
Developing the Program's Theory of Change

 

Resource Allocation for Nonprofit Programs

 

Basics of Effective Program Design

 
Nonprofit Budget and Financial Management: 
The Financial Model of Nonprofit Organizations

 

Components & Procedures for Nonprofit Budgeting

 

Nonprofit Monitoring, Compliance & Accountability

 
Nonprofit Marketing & Communications:
Understanding Your Target Audiences

 

External Messaging & Advocacy

 

Crisis Messaging & Using Social Media

 
Nonprofit Fundraising & Resource Development: 
Structure and Responsibility of the Fundraising Role

 

Know Your Donors

 

Creating a Culture of Philanthropy

 
Nonprofit Trends & Innovation: 
External Factors That Impact Nonprofit Decision-Making

 

Emerging Trends in Organizational Governance & Structure

 

Advanced Technologies & the Global Nature of the Nonprofit Sector

 
The selection of these 55 individuals for the CNP September Cohort is a testament to the unwavering commitment of the social sector's current and future leaders. They are poised to make a significant impact in the nonprofit sector.
---
Get nonprofit tips and tools delivered right to your inbox by joining The Nonprofit Leadership Alliance Newsletter. Our bimonthly newsletter will make sure you know what's happening with our network of social sector leaders.