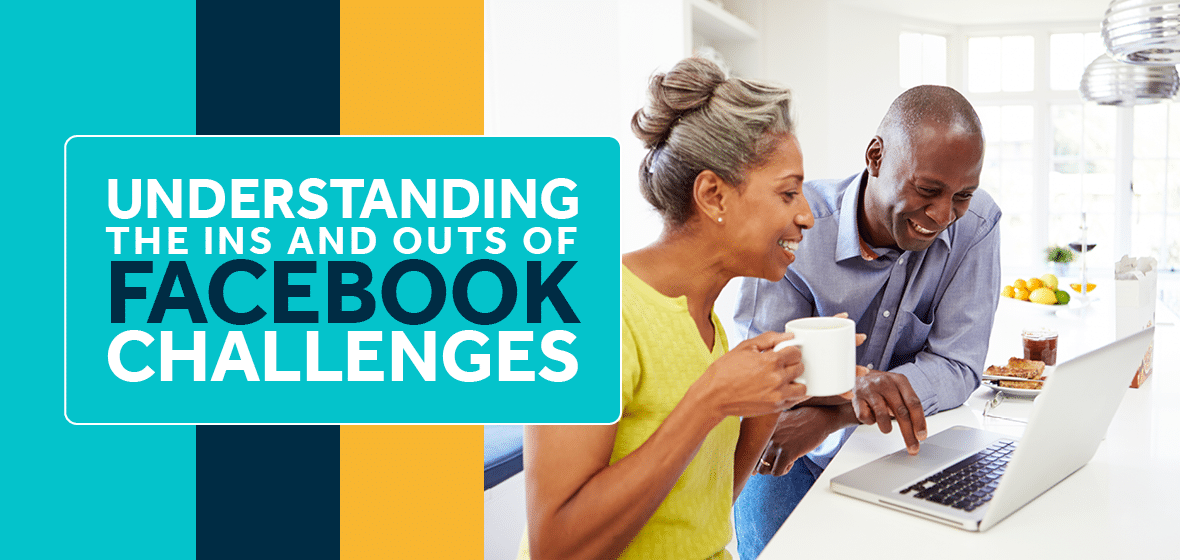 As a rising nonprofit leader, you're well aware of the importance of diversifying your organization's fundraising stream as a way to de-risk your revenue and with it, your mission. That way, even if one funding source runs dry, you'll still have a variety of other channels to fund your organization's essential work.
Because of this, a key nonprofit management skill is discovering and developing new funding sources for your nonprofit. One such source that you should consider adding to your future fundraising toolkit is Facebook (Meta) Challenges, an additive social fundraising solution that's on the rise.
You may have considered venturing into the world of Challenges on Facebook (Meta), or this may be an entirely new concept that you're curious about. To help, we're going to cover the ins and outs of these fundraisers by answering the following questions:
What are Challenges on Facebook (Meta)?

Why should you incorporate Challenges on Facebook (Meta) in your strategy?

How can you host a Challenge on Facebook (Meta) for your nonprofit?
Before we dive into the specifics of Challenges on Facebook (Meta), it will be helpful for you to have a more general understanding of social giving. Check out GoodUnited's ultimate guide to social giving for nonprofits, and then pop back to this guide to learn about Challenges! 
Let's get started.
What are Challenges on Facebook (Meta)?
Challenges on Facebook (Meta) are a type of peer-to-peer fundraiser hosted on the social media platform. 
Essentially, participants sign up to join the Challenge and are added to a corresponding Facebook (Meta) group. For the duration of the fundraiser (usually a few weeks), participants complete a task (such as walking, running, or calisthenics) while raising peer-to-peer funds from their networks using a Facebook fundraiser created for the nonprofit hosting the event. Within the group, participants experience a digital community where they can connect with others completing the Challenge and encourage one another to reach their goals.
Challenges entered the social giving scene in 2020, and their popularity exploded as many nonprofits suddenly faced the decision to either cancel their annual peer-to-peer events outright or plan a virtual iteration that was social distancing-friendly. Not intended to replace the major annual peer-to-peer events that nonprofits were pivoting, Challenges were introduced as a way to supplement the virtual events and bring in additional revenue and support.
Case Study: American Cancer Society's Challenges on Facebook (Meta)
One nonprofit that incorporated Challenges into its strategy is the American Cancer Society (ACS), which hosted a series of three fundraisers during the pandemic. Each month-long Challenge tasked participants with completing one of three activities: running, walking, or doing squats. These Challenges resulted in the following outcomes:
61,000 fundraisers created on behalf of the American Cancer Society

443,078 new leads to connect with, with 95% of participants new to the organization
During the fundraiser, the American Cancer Society broke Facebook (Meta)'s record for the most donations raised by an organization in a single day— generating 23,000 donations in one 24-hour period. Even more shockingly, these goals were met in a low-cost way. Compared to the industry standard of $600 to acquire a peer-to-peer participant, American Cancer only spent about $22.41 to acquire each Challenge participant.
Why should you incorporate Challenges on Facebook (Meta) in your strategy?
Reading those outcomes, you may already be convinced that Challenges on Facebook (Meta) could be a valuable addition to your future fundraising efforts.
However, as a future nonprofit professional, you may be (rightly) hesitant to buy into an up-and-coming fundraising method without resounding evidence of its success. While the nonprofit overhead myth is exactly that— a myth— it's still good to be careful with your nonprofit's investments.
With that in mind, let's further explore why exactly Challenges on Facebook (Meta) could be a valuable addition to your strategy, especially when it comes to de-risking your mission.
Straightforward Fundraiser
While hosting a Challenge can bring in new revenue for your organization, the cost of hosting one is significantly lower than the industry peer-to-peer average. This is because Challenges are:
Virtual, so you don't need to invest in an event space or physical materials. This also makes planning significantly more straightforward.

Hosted using

free virtual fundraising software

— Facebook (Meta). Your organization gets to keep 100% of every donation made.
As long as your nonprofit has access to a Facebook (Meta) account, you can plan a Challenge.
Lastly, not only are Challenges low-cost and easy to plan, but they're also easy for participants to join. Participants who already have Facebook (Meta) accounts are familiar with the platform and likely its group functionality, so they're not navigating an unfamiliar tool. And, those who haven't used Facebook (Meta) before can easily sign up for a free account. This means that you're unlikely to see low participation rates due to inconvenience.
Additive Fundraising Method
The cost of hosting a fundraiser goes beyond the actual funds you spend putting on the event. If that fundraiser pulls support away from your other efforts or leads to a general sense of donor fatigue, you'll experience a cost in the sense that less revenue will be generated from your other campaigns.
Luckily, Challenges on Facebook (Meta) avoid this cost since they're an additive fundraising method.
Think back to the ACS case study where 95% of the individuals who participated in the fundraiser were new to the organization or cause itself. This means that, rather than pulling support away from ACS's other campaigns, the organization's Challenges on Facebook (Meta) reached an entirely new audience that they hadn't engaged with previously.
This means that you can host Challenges on Facebook (Meta) consecutively with other fundraising efforts and bring in more revenue and new supporters in addition to what you would have received originally.
How can you host a Facebook (Meta) Challenge for your nonprofit?
If you're ready to incorporate Challenges on Facebook (Meta) into your nonprofit's fundraising calendar, complete the following steps:
Outline the parameters of your Challenge.

This includes the dates during which it will run, your fundraising goals both as an organization and per-participant, and the Challenge task that participants will complete. Check out this

GoodUnited list of virtual fundraising ideas

to begin brainstorming tasks.

Create the tech infrastructure for the fundraiser.

This is essentially the Facebook (Meta) group in which participants will meet and engage with one another. Make sure you choose a branded profile picture and cover photo for the group and write a clear description outlining what participation in the Challenge will look like.

Use Facebook (Meta) Ads to spread the word.

This is a paid

nonprofit marketing strategy

in which you purchase ads to be shown to your supporters, directing them to sign up for the fundraiser. Target your ads to both known supporters and lookalike audiences to increase the reach of your fundraiser.

Engage with participants throughout the fundraiser.

Once the ads encourage participants to sign up for the Challenge, you should continue

inspiring them throughout

the campaign. This includes sharing discussion prompts, sending Challenge updates, and highlighting top participants. All of this can be done through posts within the group.
During and beyond the Challenge's end, you can connect with participants via Facebook (Meta) Messenger to hold one-on-one conversations. To do this, simply invite participants to start a chat with your organization using the tool. Then, you can converse back and forth as you would with any other Facebook (Meta) friend.
---
To wrap up, Challenges on Facebook (Meta) are a beneficial fundraising avenue to familiarize yourself with as a rising nonprofit professional. Challenges can help de-risk your fundraising revenue and with it, your mission as a whole. All you need is a solid plan to fit them into your development plans and inspire people to get started. Good luck!
About the Author:
Cassie Losquadro is a sales leader at GoodUnited, the social giving solution. She has spent the last 5 years in the fundraising technology space and is energized by working with nonprofit leaders and changemakers who are to a person, saving the world through their initiatives. Hailing from Rhode Island, Cassie lives and works from Charleston, SC with her husband, two children, and rescue pup Bella. Connect with Cassie on LinkedIn: https://www.linkedin.com/in/cassiefaella/
Cassie Losquadro, Solutions Executive at GoodUnited