Written by Katie Rossman, MPA, CNP
Reading Time: 2 minutes
Now more than ever it is critical that leaders sharpen their skills and expand their networking strategies. With this in mind, Leaderosity was a program specifically designed to democratize access to high quality leadership training. The name itself means the act of becoming a leader.
In a short amount of time, Leaderosity has become a cornerstone program for the Nonprofit Leadership Alliance. Here are some important milestones.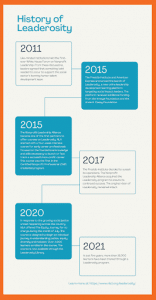 The Leaderosity platform includes four solutions to meet the needs of our partners, all designed to offer modern learning experiences for social impact leaders.
Interested in learning more about Leaderosity's products and services? Click here or contact Erica Davis, CNP and discuss how Leaderosity could be a solution for your organization.