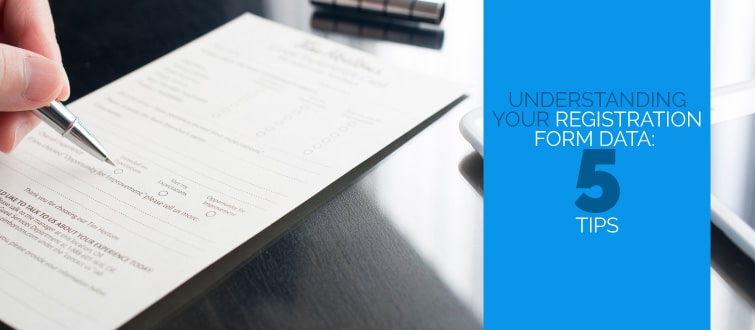 The answers provided on registration forms for your nonprofit's events, newsletter subscriptions, and other offerings provide key insights into your supporter base. Collecting data about your supporters' interests, motivations, and commitment to your cause are key for cultivating donor relationships, making data gathering and analysis key skills for nonprofits professionals.
However, your registration forms and data are ultimately just tools. This means they'll only be valuable to your organization if you put them to effective use. To collect the most pertinent data for your nonprofit and effectively leverage it, you should have a purpose behind every information field prompted on your registration forms and understand what to do with the information accumulating in your database. 
To help your nonprofit make the most of your registration forms' data, this guide will explore give tips for using your registration software to put your data to use, including how to:
Create supporter profiles 

Identify key performance indicators. 

Segment supporters. 

Use automatic payment processors 

Practice routine maintenance. 
How each of these insights impacts your organization's strategy will vary depending on your unique findings. Approach these tips with your nonprofit's current needs in mind and adapt them accordingly as you continue to grow and evolve. Let's get started.
1. Create supporter profiles.
When you collect data from your registration forms, where does it go? The answer is likely some sort of database, whether it's your donor database or stored within the registration tool, itself, to be imported later. When setting up your registration software, consider how your information can best be organized to suit your nonprofit's objectives. For instance, many nonprofits are concerned with donor relationships and accordingly use their data to create supporter profiles. 
Supporter profiles provide an overall snapshot of your organization's relationship with each supporter, including information such as:
Demographic data.

How old are your supporters? Where do they live? What kinds of jobs do they have? Demographic data covers these basic concepts and can help you not only understand your donors as individuals, but also identify common shared characteristics across groups of donors. This allows you to better understand who your average supporter is, and how you can more effectively appeal to them. 

Communication preferences.

How do your donors prefer to communicate with your nonprofit? Registration forms can ask this question outright, often allowing donors to select whether they would prefer email, text, or even

direct mail

communication. While asking the question directly is the easiest way to find this information, you may also be able to come to a conclusion by monitoring response and engagement rates across communication channels. 

Engagement history.

If a donor registers for an event, you should note it on their profile. Keeping track of engagement history can help you get a sense of what activities your donors are interested in, as well as what direction to take your relationship in the future based on past experiences. 
These types of information will accumulate slowly as supporters continue to engage with your nonprofit, attend events, and fill out registration forms. Additionally you can use wealth screening tools to further investigate the information your supporters provide to learn their donation capacity and likelihood of giving.
2. Identify key performance indicators.
Your registration forms can be used to collect all sorts of information, but not all of it will be equally useful for your nonprofit's growth and development. When creating your registration forms and analyzing the data they record, consider your nonprofit's key performance indicators (KPIs). 
You'll be able to track KPIs with your registration software's reporting tools, identifying emerging trends across multiple submitted responses. For example, DonorSearch's guide to nonprofit fundraising metrics outlines a few KPIs you can use your registration forms to monitor: 
Fundraising participation.

Out of your supporters, how many routinely participate in your fundraisers? 
Engagement lapse.

Are there donors who were previously active in your organization's activities who no longer are or participate to a lesser extent than before?

Landing page conversion rate.

How many visitors who click through to your website go on to complete a specific task, such as subscribing to your newsletter, volunteering, signing up for an event, or making a donation? Are certain landing pages more effective than others? 
Additionally, pay attention to metrics regarding your registration process, such as form abandonment. If you see a notable number of users drop off at a specific point in your registration process, you may need to revise your website content, registration form, or other component of the process.
3. Segment supporters.
The data your supporters provide on your registration forms can help inform how you communicate with them. From a registration form, you'll learn a variety of data points that can be used to organize your supporters into unique segments based on their interactions with your organization and preferences. 
For instance, you might divide donors by:
Average gift amount

Type of donor (major donor, new donor, recurring donor, etc.)

Campaign interests
These segments can be used to send targeted messages to further supporters' engagement with your nonprofit. For example, if you notice that a guest has signed up for several hybrid events and always chooses to attend virtually, you might change your communication cadence to alert them about virtual and hybrid events only. 
Your registration software should help you in identifying and creating these segments by asking outright about some of the key data you want to collect from supporters. Some solutions even have tools such as post-event surveys that allow supporters to explain their interests and motivations for signing up for various activities, as well as how they felt about the overall registration process.
4. Use automatic payment processors.
Automatic payment processors allow your nonprofit to collect regular donations and fees for subscription services, such as instructional course offerings. When your supporters complete a registration form where payment is expected, they will interface with your payment processor and have the opportunity to allow your nonprofit to store their financial information. 
As Regpack's guide to recurring billing software explains, your automatic payment processor should integrate with your CRM, ensuring donor information is stored safely in your system and your fundraising team has access to the latest transaction data. By keeping all of your information stored in one centralized location, your team will be able to access key data at a moment's notice when making decisions about your recurring donations program.
5. Practice routine maintenance.
In order to collect data from your registration forms, your forms will need to be in full working order. Technical issues, downed websites, and syncing issues do happen, but you can get ahead of them by practicing routine software and website maintenance. 
Begin your website maintenance by putting yourself in a new visitor's shoes and walking through your registration process. Make sure all navigation links are working and have fast load times. Enter information into your registration forms to make sure they are accepting submissions without issues, and check your database to ensure information is flowing smoothly between your software solutions. 
Your registration forms have multiple jobs, helping your supporters sign up for engagement opportunities, while also allowing your nonprofit to learn more about your supporters. Refine your registration process to gather the information your organization needs and store it in a manner that aligns with your goals. Then, put your data to work in how you reach out to supporters, manage your registration process, and more.
---
About the Author:
"Asaf Darash, Founder and CEO of Regpack, has extensive experience as an entrepreneur and investor. Asaf has built 3 successful companies to date, all with an exit plan or that have stayed in profitability and are still functional. Asaf specializes in product development for the web, team building and in bringing a company from concept to an actualized unit that is profitable."